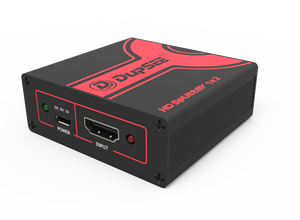 DupSee Splitter 1x2
ClonerAlliance
Regular price USD $42.99 USD $29.99 Sale
DupSee Splitter 1x2 is the perfect solution for anyone who needs to send one source of digital high definition video to two displays at the same time. Its key features include one HDMI input and two HDMI outputs with support for 4K and 3D content as well as essential audio formats. It offers HD video solutions for super market, shopping mall, HDTV, video capture, projector factory, data control center, information distribution, conference room presentation, education and training, corporation show room & home theater, etc. The gadget comes with its sturdy metal case, 5V power supply and LED light indicators that display the ports in use. DupSee Splitter 1x2 can achieve up to 50ft long distance signal transfer via cascade, no worry about signal loss. 
Connect one HDMI source and distribute the signal source to two displays simultaneously, no downscaling as long as your output devices support the input resolution.
Supports 3D and 4K UHD content.
Supports CEC function.
HDMI 1.4a supported
Supports resolutions of 1080p/1080i/720p/720i/576p/576i/480p/480i.
Supports x.v.YCC and 12-bit deep color.
Pass through video and audio simultaneously, supported audio formats: DTS-HD, Dolby TrueHD, LPCM 7.1, DTS, Dolby AC3 and DSD.
Achieve up to 50ft long distance signal transfer via cascade, no worry about signal loss.
Supports HDMI signal retiming, no loss of quality.
Quick installation, easy operation and low power consumption.
Plug-and-play ââ'?no software installation required.
1 year hardware warranty.
Free technical support
Note: DupSee Splitter 1x2 is an HDMI splitter, not an HDMI switch. An HDMI splitter will duplicate a single HDMI source on two or more HDMI displays. An HDMI switch will take multiple sources and allow you to choose which single source will be displayed on the TV.